Want to know more about the MFA program? Hear from our Director, our Graduate Chairs, current students and alumni. We cover everything from the student experience to the application process to career planning.
Machine generated transcripts are available as PDF files after each video; note that they may have small typos and imperfect formatting.
Session Videos
1. Introduction
Director Annabel Lyon
2. The Application Process
Presented by Graduate Co-Chairs Sharon McGowan and Timothy Taylor
Application Process Transcript PDF
3. The Student Experience – Optional-Residency
Presented by Nisha Patel, Optional-Residency MFA student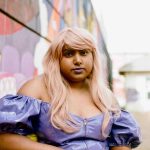 Nisha Patel is an award-winning disabled queer spoken word author & artist. She was the City of Edmonton's 8th Poet Laureate, and is a Canadian Individual Poetry Slam Champion. Her debut poetry collection, COCONUT (NeWest Press) and her latest chapbooks are out now.
4. The Student Experience – On-Campus
Presented by Adrian Matias Bell
Adrian Matias Bell Transcript PDF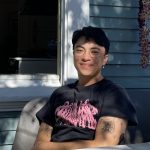 Adrian Matias Bell is a queer and trans writer and musician currently working on unceded Musqueam territory. Originally from California, he is currently an on-campus MFA student in Creative Writing at UBC, where he is writing a lot of poems, attempting his first novel for his thesis project, and working as the Editor in Chief of PRISM international. His writing has appeared in Winter Tangerine, Qwerty, Dialogist,and Qu. He also makes music as Nightjars.
5. The Alumni Experience
Presented by Shaelyn Johnston and Danny Ramadan
Shaelyn Johnston
Shaelyn Johnston Transcript PDF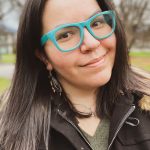 Shaelyn Johnston is an award-winning Ojibwe and Irish-Canadian writer from Vancouver, BC. She was a recipient of the Governor General's History Award for her short story, Anishinaabemowin, which she is adapting into a short film set to go into production October 2023. She is also a 2023 Whistler Screenwriters Lab participant, sits on the board of the Gender Equity in Media Society (previously WIFT Vancouver), and recently completed her MFA in Creative Writing at UBC.
Danny Ramadan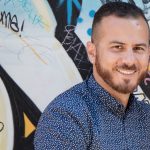 Danny Ramadan is a Syrian-Canadian author. His novels, The Clothesline Swing and The Foghorn Echoes continue to receive accolades, including a Lambda Award for Gay Fiction for The Foghorn Echoes. His award-winning children's series The Salma Books continues to grow. Ramadan has raised over $300,000 for LGBTQ+ refugees.
6. Career Planning
Presented by Graduate Co-Chairs Sharon McGowan and Timothy Taylor
Career Planning Transcript PDF