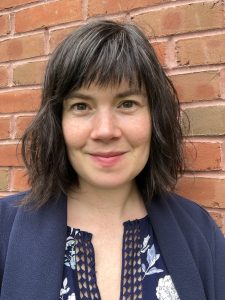 We're delighted to welcome our newest faculty member, Bronwen Tate, to UBC Creative Writing. Bronwen joins us as an Assistant Professor of Teaching, with specializations in nonfiction and poetry.
Bronwen earned an MFA in Literary Arts: Poetry from Brown University and a Ph.D. in Comparative Literature from Stanford University and taught at a tiny college in Vermont before coming to work at UBC. Her debut poetry collection The Silk the Moths Ignore, National Winner of the 2019 Hillary Gravendyk Prize, is forthcoming from Inlandia Institute in spring 2021.
We asked her to say a few words about her work, her interests and her teaching:
I'm a writer of poetry and creative non-fiction and a scholar of poetry and poetics. In my teaching, I love drawing on my background in literature to develop creative writing assignments that help students discover how to become closer readers and adopt new tools and lenses of awareness into their writing practice. I'm thrilled to join a group of colleagues who are such experienced writers and passionate teachers. It's especially exciting to work in a department that offers courses in so many different genres and really encourages students (and faculty) to keep exploring and trying new things.