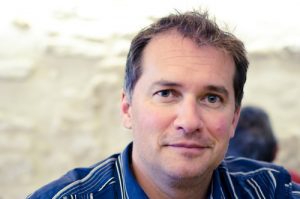 The Creative Writing Program is delighted to welcome John Vigna as our first tenure-track Instructor starting July 1, 2017.  Born in Calgary, Alberta, Vigna has taught Creative and Professional Writing for sixteen years at numerous institutions, including Malaspina College (now Vancouver Island University), Douglas College, University of the Fraser Valley, and most recently as a full-time 12 Month Lecturer with UBC Creative Writing.  He has also worked as a professional freelance writer and editor, including business and technical writing as well as fiction and creative non-fiction and has won the Dave Greber Freelance Writers Award and has been nominated for Canada Reads, was a runner-up for the Danuta Gleed Literary Award, and was named one of CBC's 10 Writers to Watch.  He will focus on pedagogical and curricular strategies for 5500 Creative Writing students across the MFA, Major, and Minor programs, including online edX innovations. 
Vigna has published one book of fiction, Bull Head (Arsenal Pulp Press, in Canada and the U.S.   Bull Head was also published in France as Loin de la violence des hommes, Editions Albin Michel).   He has also published in literary journals including:  The Dalhousie Review, The Antigonish Review, and Cabin Fever:  The Best New Canadian Non-Fiction (Thomas Allen Publishers).
He holds a BA in English from the University of Calgary, a Diploma in Professional Writing from Douglas College, and an MFA in Creative Writing from UBC.  He has also attended the University of Iowa Writer's Workshop and Banff Cultural Journalism and Literary Non-Fiction Program.
Vigna has served as an adjudicator for the CBC Literary Awards, the Danuta Gleed Literary Award, and BC Book Prizes and Alberta Literary Awards.