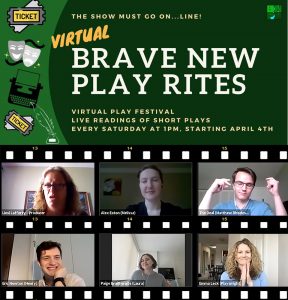 During these uncertain times we need a form of escape and the Creative Writing Program has exactly what you're looking for! The 34th Annual Brave New Play Rites Festival has moved online, live readings are being broadcasted on Saturdays at 1pm PST for the next five weeks. You can access BNPR's YouTube channel through this link: https://bit.ly/3c3xs27
The BPNR Festival kicked off last Saturday with live readings of Moneybags by BFA playwright Vanessa Hill and The Deal by MFA playwright Emma Leck. The video of the readings can be viewed here: https://bit.ly/2RuawBk
Thank you to Bryan Wade, Liesl Lafferty, and the whole BNPR Production Team for bringing this festival online and for continuing their efforts despite the current circumstances.
For those who'd like to learn more about Brave New Play Rites here's an excerpt from a previously released UBC Now article:
"Thirty years and close to 500 produced plays later, Wade remains the heart and driving force behind the successful festival. Second and third productions of BNPR scripts have been staged in New York, Toronto and Scotland. Many of the festival's alumni have gone on to become prominent members of Vancouver's artistic community.
The BNPR Festival has found a home in some of Vancouver's most cherished and iconic theatres such as The Vancouver Little Theatre on Main Street, Waterfront Theatre on Granville Island and Presentation House in North Vancouver. At UBC, the festival has been staged in the original Dorothy Somerset Studio, the ballroom at the Graduate Student Centre, the Asian Centre auditorium, Telus Studio Theatre at the Chan Centre, Frederic Wood Theatre and the new Dorothy Somerset Studio."
Originally posted in 2016 // www.ubc.ca/ubc-now