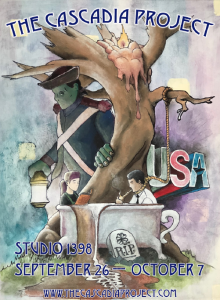 Creative Writing professor Bryan Wade, masters students, and emerging playwrights combine forces to put on a festival of new plays, from September 26th to October 7th, 2018 at Studio 1398 on Granville Island.
The festival has been programed into a White, Blue, and Green night, each featuring two plays, over the course of the two-week run at Studio 1398.
The final October 7th performance of Eight Ways to Fate and All will be a benefit show, with all proceeds going towards three DTES charitable programs: PHS Community Services Society, Sheway and VGH & UBC Hospital Foundation and the Union Gospel Mission.
Tickets range from $15-30 and can be bought through Brown Paper Tickets ( cascadiaproject.brownpapertickets.com ) or in person at the door. For more information about the festival and the artists involved, please visit thecascadiaproject.com . For media inquiries please email: cascadiaproject2018@gmail.com.
Read more:
UBC professor, Bryan Wade, explains the genesis for the theatre company and festival, "The Cascadia Project came about as the result of a playwriting panel I put together and moderated in 2014 in Seattle. Playwrights from Portland, Seattle, Vancouver, Victoria, and Alaska riffed on what this unique geographical region signified for them as theatre artists. What were the other connective elements that we share besides standing by for an earthquake or a tsunami and the constant quest for a good cup of coffee? What are these elements now? These six unique plays are The Cascadia Project's first offering. Welcome."
These six plays include Wade's new script, Eight Ways to Fate and All, which challenges five actors to play twenty characters who share their experiences with illicit opioid use. The opioid epidemic affects every level of society, from the suburbs to the downtown alley to the high-rise condo.
Award-winning solo performer Laura Anne Harris (Top 10 Performers to Watch, Favorite Performance, Favorite Production – Toronto's Now Magazine) returns to Vancouver (2009 Chutzpah Festival; Pitch Blonde ) with a new show, Destiny, USA. When Laura moves down to the U.S. after getting married, she doesn't anticipate the cultural climate of Trump's America. However, as she interacts with 'real' America as a Relay Operator for the Deaf and Hard of Hearing, she learns that Obama's hope isn't necessarily dead just yet.
Award-winning, Vancouver-based Beaverton writer Andrey Summers (Sydney Arts Guide Best Fringe Comedy 2015, Sydney, Australia) brings a new comedy to the festival, The Hanging Judge. In a midnight cemetery outside Napoleonic London, two trolls hold a mock trial to decide the fate of a Chinese expatriate, presided over by the hanged corpse of a racist judge.
Award-winning writer/director Fiona Revill (Sydney Arts Guide Best Fringe Comedy 2015) has created a nuanced comedy-drama titled Oaks. David, a young man harbouring a secret, and his precocious kid sister, Georgia, are reunited at their mother's funeral, when Georgia refuses to come down from a tree.
American playwright and Brave New Play Rites producer Tommy Grimly brings absurdism to the festival with his play, Pun Pals. It's a normal, awful day at work for baristas Rosey and Gilda. Then, they discover they can only speak in puns. Chaos ensues.
Rounding up the festival is a bilingual piece by Toronto-born Issie Patterson entitled, Wayne Gretzky Never Takes It Black. This comedy-drama is about two baristas who must save the independent cafe they work in, a bilingual community hub in Sherbrooke, Quebec, from being turned into a Starbucks.