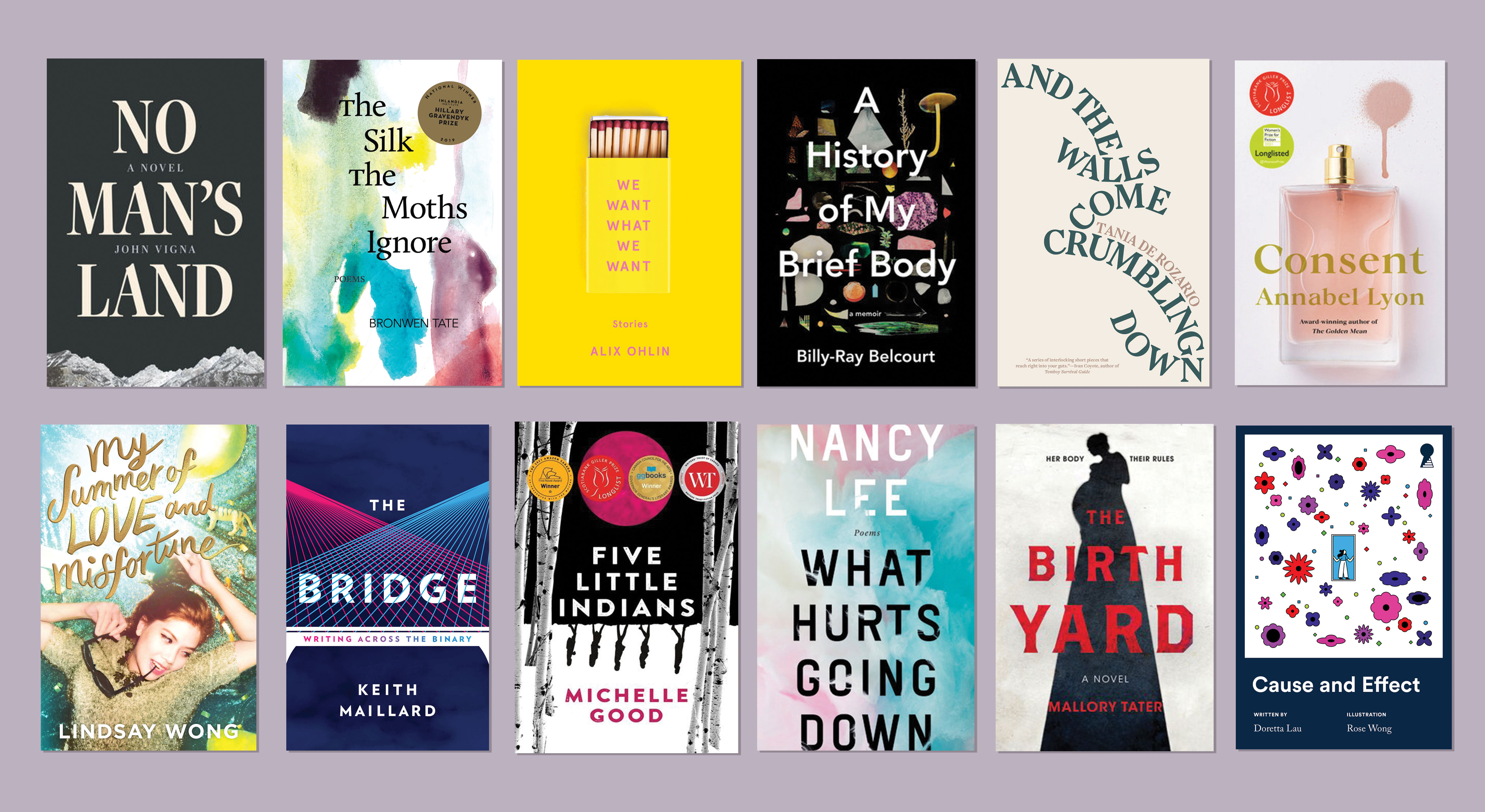 Over the last year, Creative Writing faculty published books in fiction, nonfiction and poetry that challenge conventional opinions on issues ranging from history to gender and sexuality to family and responsibility. We invite you to read them all and join the conversation.
---
No Man's Land
John Vigna,
Assistant Professor of Teaching
A sprawling saga set in the Canadian wilderness of the late 19th century, about a teenaged girl named Davey, a charismatic fraudster, and the unbearable weight of fate. Haunting on every page, filled with sorrow and awe, and stunning in the tonality of its vision, No Man's Land is an unflinching meditation on the legacy of violence, its senseless destructiveness, and the fearless dignity and tenderness required to rise above it.
Forthcoming fall 2021
---
The Silk the Moths Ignore
Bronwen Tate,
Assistant Professor of Teaching
The Silk the Moths Ignore animates the liminal, sometimes gothic, spaces of miscarriage, pregnancy, and early parenthood with exquisite defamiliarizing detail. Weaving together prose versets, sonnets, and short poems with titles like "Against Choking" and "To Acknowledge Damage," the collection sings, bleeds, and casts spells to "carry hope like a weight."
---
We Want What We Want:
Stories
Alix Ohlin,
Director and Professor
Thirteen glittering, surprising, and darkly funny stories of people testing the boundaries of their lives. Populated with imperfect families, burned potential, and inescapable old flames, the stories in We Want What We Want are, each one, diamond-sharp—sparkling with pain, humor, and beauty.
---
A History of My Brief Body:
A Memoir
Billy-Ray Belcourt,
Assistant Professor
A slim but electrifying debut memoir about the preciousness and precariousness of queer Indigenous life. Opening with a tender letter to his kokum and memories of his early life on the Driftpile First Nation, Billy-Ray Belcourt delivers a searing account of Indigenous life that's part love letter, part rallying cry.
---
And The Walls Come
Crumbling Down
Tania De Rozario,
Adjunct Professor
And the Walls Come Crumbling Down features a young queer woman in Singapore who is unable to find safety and refuge in her biological family or country of birth. Presented in radically vulnerable fragments through a hybrid of queer memoir and poetic rumination,  And The Walls Come Crumbling Down masterfully lays bare the love, pain, and precarity experienced by those who must forge their own home.
---
Consent
Annabel Lyon,
Associate Professor
A sly, sensual, haunting novel about two sets of sisters whose lives collide when tragedy changes them forever. Razor-sharp and profoundly moving, Consent is a thought-provoking exploration of the complexities of familial duty, and of how love can become entangled with guilt, resentment, and regret.
---
My Summer of Love and Misfortune
Lindsay Wong,
Lecturer
Crazy Rich Asians meets Love & Gelato in this hilarious, quirky novel about a Chinese-American teen who is thrust into the decadent world of Beijing high society when she is sent away to spend the summer in China. My Summer of Love and Misfortune is Wong's first Young Adult novel.
---
The Bridge:
Writing Across the Binary
Keith Maillard,
Professor
The Bridge is Keith Maillard's fascinating memoir of growing up in West Virginia in the 1940s and '50s: a time and place where the word "nonbinary" didn't exist. This memoir from one of Canada's most celebrated writers is an instant classic–timely, accessible, and wonderfully evocative.
---
Five Little Indians
Michelle Good,
Adjunct Professor
Taken from their families when they are very small and sent to a remote, church-run residential school, Kenny, Lucy, Clara, Howie and Maisie are barely out of childhood when they are finally released after years of detention. With compassion and insight, Five Little Indians chronicles the desperate quest of these residential school survivors to come to terms with their past and, ultimately, find a way forward.
---
What Hurts Going Down
Nancy Lee,
Associate Professor
Nancy Lee's searing collection of poems confronts how socially ingrained violence and sexual power dynamics distort and dislocate girlhood, womanhood, and relationships. Startling and visceral, the poems in What Hurts Going Down deconstruct a lifetime of survival, hover in the uneasy territory of pre- and post- #MeToo, and scrutinize the changing wagers of being female.
---
The Birth Yard
Mallory Tater,
Adjunct Professor
The Birth Yard is a gripping story of a young woman's rebellion against the rules that control her body. Mallory Tater weaves an intricate narrative, equal parts suspense and action, while twisting contemporary social anxieties to dizzying extremes. She meticulously deconstructs the intricate relationships between womanhood, government and the female body.
---
Cause and Effect
Doretta Lau,
Adjunct Professor
In this poetry collection Doretta Lau perfectly captures the tension that so often exists between spirituality and our lived experiences. Her poems are steeped in equal parts belief and doubt; the simultaneous feeling that there is something more beyond the realm of the senses and a hollowness brought on by the everyday.