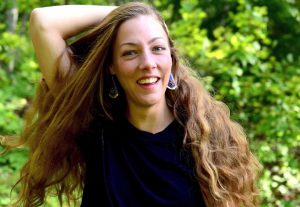 Congratulations to UBC Creative Writing MFA student Sara de Waal, who is the inaugural winner of the Bridge Prize national short story competition. Her story Cecilia and Richard won the $7,500 first-place award out of a pool of 340 stories submitted to the prize.
The most carefully constructed story we received, beautiful deployment of metaphor, especially when we're told that the father has no energy for metaphor. This is a language story, filled with effective detail, colours painting words and consequences. – Aritha Van Herk, Prize Juror
De Waal is a writer and teacher from Abbotsford, B.C who will graduate from UBC's MFA Program in Creative Writing in November. Her first picture book, 48 Grasshopper Estates, is projected for release through Annick Press in April 2021. When she's not busy writing, de Waal works as a primary music and art teacher where her students constantly inspire her to keep making art.
"When I began my Master of Fine Arts degree at UBC, I resigned from teaching music and returned to my high school job on a dairy farm, hoping all those early hours in the milking parlour would provide more time for daydreaming up stories — and they did." – Sara de Waal
Finalist
UBC MFA Alumnus Ahmad Danny Ramadan was a finalist for this award, along with two other writers. His story The Miraculous Return of Khaled from the Dead was recognized with a $1000 finalist prize.
About the prize
The Bridge Prize was established in 2019 by the University of Lethbridge's School of Liberal Education and Vancouver-based alumnus and donor Terry Whitehead (BA '94). It is Canada's only national short story competition open exclusively to post-secondary graduate and undergraduate students studying at Canadian universities and colleges. Its $10,500 in prize money make it the richest student writing competition in Canada and among the largest for any short story competition in the country.
To read Sara's story, see a video message from her and find out more about this competition, visit the Bridge Prize website.