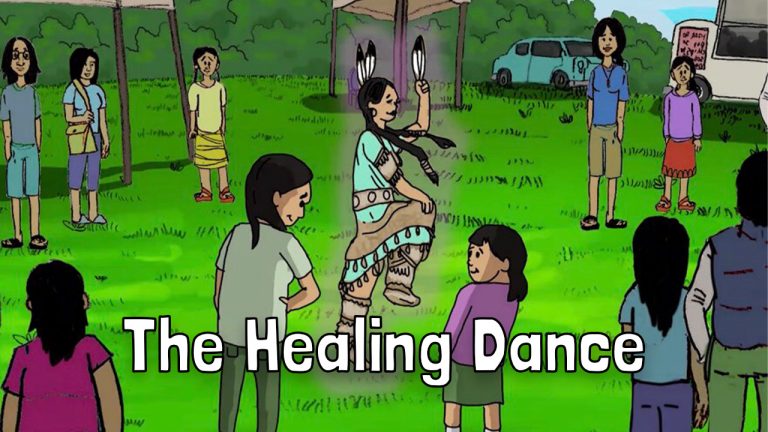 UBC Creative Writing alumnus Shaelyn Johnston launched her first animated film thanks to a $20,000 grant from Telus STORYHIVE.
Her film, The Healing Dance, was one of 30 films chosen by a panel to receive funding under the first-ever Indigenous Storytellers Edition of the STORYHIVE competition. The film premiered online in September.
Johnston is Ojibwe from the Saugeen First Nation in Southampton, Ontario. She grew up in Vancouver. Johnston developed the story for The Healing Dance as part of her search to learn about her Ojibwe culture. The Healing Dance tells the story of Rosie, a young Anishinaabe girl, who learns about the origins of jingle dancing the night before her first pow wow.
"I want to use The Healing Dance to educate and inspire because when I was searching for a connection to my own Indigenous culture, witnessing pow wow dancing, especially in my own community, created such a strong connection for me. I really want that for other people," says Johnston.
"I think that pow wow dancing is such a strong expression of Indigenous culture, and I wanted to bring that visual to life on the screen. The film pulls people in with imagery of bright coloured regalia, the feeling of the drum beating in your chest and the sound that jingles make every time a dancer moves."
Features UBC student as actor
The film features actor Nicole Cardinal, a UBC Master's student and alumnus of the First Nations and Indigenous Studies BA program, as Rosie's mother. Cardinal's daughter Kailani is the voice of Rosie.
The two Indigenous scholars first met at the UBC Longhouse while pursuing their undergraduate degrees. Cardinal was actively learning about her own culture and working on decolonizing. It was through interviewing Cardinal for an undergraduate Creative Writing assignment that Johnston's passion for connecting with her Ojibwe culture ignited.
"Meeting Nicole was incredibly inspiring for me. Our interview was what led me to search for more knowledge about being Ojibwe, and that was how I learned about the history of jingle dancing, which led to the creation of The Healing Dance. So, for me, if felt like coming full circle to ask her to be part of this project. And to have her daughter, Kailani also be part of the film as Rosie, I think is an incredible keepsake for the two of them," says Johnston.
Johnston is now pursuing her MFA in Creative Writing at UBC in the Optional-Residency Program. She wants to use her MFA as an opportunity to create more Indigenous stories, and to keep learning about her culture while sharing it with the public.
View the film
The Healing Dance is available for viewing on YouTube.
STORYHIVE provides production grants to creators in British Columbia and Alberta. All the projects for the Indigenous Storyteller Edition were selected by an all-Indigenous jury of industry experts and TELUS team members.