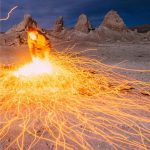 Every year, our fantastic BFA and MFA alumni continue to publish wonderful books, and Spring 2018 is no exception. The list of titles recently published or forthcoming includes thrillers, poetry collections, the satirical and the elegiac. Read them all and find out what our graduates are producing.
---
The list (alphabetical by author name)
Joelle Barron – Ritual Lights
https://gooselane.com/products/ritual-lights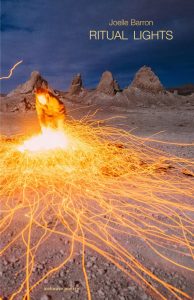 Absorbed in the small, everyday rituals of existence, this remarkable collection of poems tears open the fruit of life and scoops out beauty and joy, pain and suffering, in equal measure. Ritual Lights takes the reader on a journey through an underworld that is both familiar and uncanny, a space between death and life where one nourishes the other. Shadowed by the aftermath of sexual assault, Joelle Barron places candles in the darkest alcoves, illuminates mysteries, and rises again to an abundant Earth where the darkness is transformed into rich loam.
These poems follow the speaker through grieving and loss, heartbreak, repression, and discovery, seeking, never finding an answer, but finding meaning in the work of continuing. A meditation on trauma and identity, deeply vulnerable and reserved, funny and full of rage, Ritual Lights explores the sometimes messy and ugly, but always necessary, nature of survival.
---
Jennifer Chen – Super
https://www.insomniacpress.com/new-books.html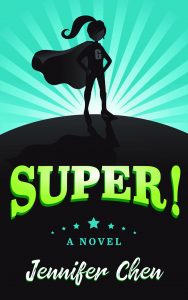 All eyes are on Beata Bell, descendent of the great Frances E. Shaw. Bets are placed on which amazing power she will inherit. Flight? Telekinesis? Super hearing? Only Beata Bell remains stubbornly, infuriatingly, and inexplicably normal. Sidelined, she must face the painful reality that she might never live up to everyone's expectations. But the Super world can't seem to leave her alone! When a new villain threatens the city, Beata is launched into a whirlwind of mystery, danger, and conspiracy. With a totally normal skillset, she must exhaust all her wits and courage to save her friends—and to survive.
---
Kim Fu – The Lost Girls of Camp Forevermore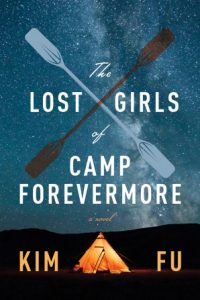 http://www.harpercollins.ca/9781443453592/the-lost-girls-of-camp-forevermore
From the award-winning author of For Today I Am a Boy, a gripping and deeply felt novel about a group of young girls at a remote camp—and the night that will shape their lives for decades to come
A group of young girls descends on Camp Forevermore, a sleepaway camp in the Pacific Northwest, where their days are filled with swimming lessons, friendship bracelets and camp songs by the fire. Bursting with excitement and nervous energy, they set off on an overnight kayaking trip to a nearby island. But before the night is over, they find themselves stranded, with no adults to help them survive or guide them home.
The Lost Girls of Camp Forevermore follows these five girls—Nita, Kayla, Isabel, Dina and Siobhan—through and beyond this fateful trip. We see the survivors through the successes and failures, loves and heartbreaks of their teen and adult years, and we come to understand how a tragedy can alter the lives it touches in innumerable ways. In diamond-sharp prose, Kim Fu gives us a portrait of friendship and of the families we build for ourselves—and the pasts we can't escape
---
Shilo Jones – On the Up.
https://penguinrandomhouse.ca/books/561602#9780771049101
In this wild, stylish, wickedly funny debut, Shilo Jones charts the journey of three players caught in a high-stakes property development–a dangerous and depraved game that plays out behind the veneer of everyday city life.
Jasminder is determined. Carl is blitzed. Mark is righteous.
Unfortunately, they've pitted themselves against one another and they're throwing everything they have at the same condo development in North Vancouver. The Solstice deal promises what they want most for themselves–freedom, respect, status, wealth–and it is their chance to be truly "on the up."
Over the course of a week, the trio vie for their piece. But there are complex personal obstacles standing in the way for each. Jasminder Bansal, an aspiring journalist with a powerful ambition and a family connection to gangland violence, is playing a dangerous game to get the information she needs from a slick property lawyer with links to an international criminal boss. Carl "Blitzo" Reed, co-founder of an ecological investment firm, has a wildly distorted sense of reality and a morally questionable connection to the property. Mark Ward, a veteran of the Afghanistan War with a strong conscience, is barely coping with the effects of PTSD, but he's forced to call on the skills he has learned as a soldier in order to repay a debt to his criminal brother, Clint. Jasminder, Blitzo, and Mark use anything at their disposal to pursue their goals, and no one is left untouched: speculators, government officials, realtors, activists, builders, day-labourers, investors, lawyers–not even a potbellied pig.
On the Up introduces Shilo Jones as a writer with a singular voice. Here he gives us a raucous, biting satire, packed with bleak humour, outrageous characters, and pathos, that shows us what can happen when greed, desperation, will, loyalty, and an insatiable desire for status collide.
---
Ellen Keith – The Dutch Wife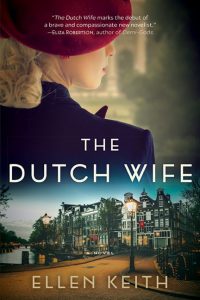 http://www.harpercollins.ca/9781443454254/the-dutch-wife
Amsterdam, May 1943. As the tulips bloom and the Nazis tighten their grip across the city, the last signs of Dutch resistance are being swept away. Marijke de Graaf and her husband are arrested and deported to different concentration camps in Germany. Marijke is given a terrible choice: to suffer a slow death in the labour camp or—for a chance at survival—to join the camp brothel.
On the other side of the barbed wire, SS officer Karl Müller arrives at the camp hoping to live up to his father's expectations of wartime glory. But faced with a brutal routine of overseeing executions and punishments, he longs for an escape. When he encounters the newly arrived Marijke, this meeting changes their lives forever.
Woven into the narrative across space and time is Luciano Wagner's ordeal in 1977 Buenos Aires, during the heat of the Argentine Dirty War. In his struggle to endure military captivity, he searches for ways to resist from a prison cell he may never leave.
From the Netherlands to Germany to Argentina, The Dutch Wife braids together the stories of three individuals who share a dark secret and are entangled in two of the most oppressive reigns of terror in modern history. This is a novel about the blurred lines between love and lust, abuse and resistance, and right and wrong, as well as the capacity for ordinary people to persevere and do the unthinkable in extraordinary circumstances. 
---
Natalie Morrill – The Ghost Keeper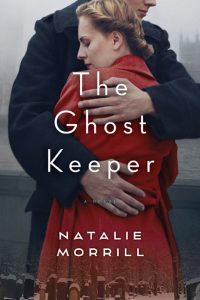 http://www.harpercollins.ca/9781443450454/the-ghost-keeper
Winner of the HarperCollins/UBC Prize for Best New Fiction, this powerful, sweeping novel set in Vienna during the 1930s and '40s centres on a poignant love story and a friendship that ends in betrayal.
In the years between the two world wars, Josef Tobak builds a quiet life around his friendships, his beloved wife, Anna, and his devotion to the old Jewish cemeteries of Vienna. Then comes the Anschluss in 1938, and Josef's world is uprooted. His health disintegrates. His wife and child are forced to flee to China. His closest gentile friend joins the Nazi Party—and yet helps Josef escape to America.
When the war ends, Josef returns to Vienna with his family and tries to make sense of what remains, including his former Nazi friend who, he discovers, protected Josef's young female cousin throughout the war.
Back among his cemeteries in Austria's war-shattered capital, Josef finds himself beset by secrets, darkness and outward righteousness marred by private cruelty. As the truth is unearthed, Josef's care for the dead takes on new meaning while he confronts his own role in healing both his devastated community and his deepest wounds.
The Ghost Keeper is a story about the terrible choices we make to survive and the powerful connections to communities and friends that define us. Here is a finely accomplished novel that introduces an exciting new voice to our literary landscape.
---
Jen Neale – Land Mammals and Sea Creatures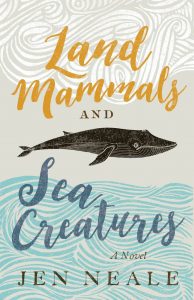 https://ecwpress.com/products/land-mammals
Almost immediately upon Julie Bird's return to the small port town where she was raised, everyday life is turned upside down. Julie's Gulf War vet father, Marty, has been on the losing side of a battle with PTSD for too long. A day of boating takes a dramatic turn when a majestic blue whale beaches itself and dies. A blond stranger sets up camp oceanside: she's an agitator, musician-impersonator, and armchair philosopher named Jennie Lee Lewis — and Julie discovers she's connected to her father's mysterious trip to New Mexico 25 years earlier. As the blue whale decays on the beach, more wildlife turns up dead — apparently by suicide — echoing Marty's deepest desire. But Julie isn't ready for a world without her father.
A stunning exploration of love and grief, Land Mammals and Sea Creatures is magic realism on the seaside, a novel about living life to the fullest and coming to your own terms with its end.
---
Jan Redford – End of the Rope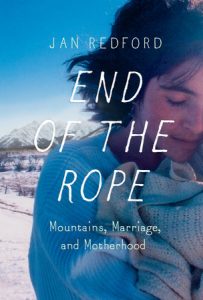 https://penguinrandomhouse.ca/books/549023/end-rope#9780345812315
In the tradition of Cheryl Strayed's Wild, the gritty, funny, achingly honest story of a young climber's struggle to become whole by testing herself on mountains and life.
As a young teenager Jan Redford runs away from a cottage where her father has just put her down for the zillionth time and throws herself against a 100-foot cliff face. Somewhere in that shaky, outraged kid is a bedrock belief in her right to exist, which carries her to the top. In that brief flash of victory, she sets her sights on becoming a climber.
Falling in love with climbing eventually leads to falling in love with the climbers in her tight-knit western Canadian climbing community. It also means that the people she loves regularly vanish in an instant, caught in an avalanche or by a split second of inattention. It almost crushes Jan when her boyfriend, the gifted climber Dan Guthrie, is killed. Instead of marrying Dan, she marries one of his best friends, a driven climber who was there for her when she was grieving and becomes the father of her two children. Not what either of them planned.
End of the Rope is raw and real. Mountains challenge Jan, marriage almost annihilates her, and motherhood could have been the last straw…but it isn't. How she climbs out of the hole she digs for herself is as thrilling and inspiring as any of her climbs–and just as much an act of bravery.
---
Sarah Selecky – Radiant Shimmering Light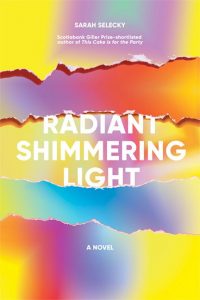 http://www.harpercollins.ca/9781443455671/radiant-shimmering-light
A sharply funny and wise debut novel about female friendship, the face we show the world online and letting your own light shine, from the Scotiabank Giller Prize–shortlisted author of This Cake Is for the Party
Lilian Quick has looked up to her cousin Florence her whole life. Florence is everything Lilian is not—brave, confident, quick to find adventure and American. The women have been out of touch for years due to a family rift, but Lilian, childless, single and self-employed as a pet portraitist, has been watching Florence for years. Florence is now Internet-famous as Eleven Novak, the face of a compelling new feminine lifestyle empowerment brand.
When Eleven comes to town as part of her sales tour, she offers Lilian a place at the Temple, her Manhattan office. Despite twenty years of silence, Eleven welcomes her long-lost cousin with open arms, and the two women begin a new relationship. Lilian quickly enrols in the Ascendency, Eleven's signature program: an expensive three-month training seminar on empowered leadership, spiritual awakening, and sales and marketing. Eleven is going to help her cousin rise up to be her highest self: confident, affluent and self-actualized.
Lilian's sensitive, artistic nature is stretched by the work she does in the Ascendency, and pushed even further by her cousin's careful life coaching. In just three months, Lilian's life changes drastically and becomes everything she's dreamed of. But is it everything she wants? And can she trust everything Eleven says?
---
Genevieve Scott – Catch My Drift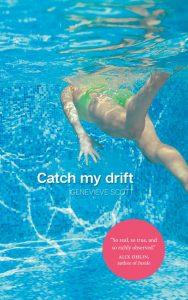 https://gooselane.com/products/catch-my-drift
Lorna always wanted to stand out, but her career as a competitive swimmer was cut short by a knee injury. Cara, her daughter, tries hard to blend in, but when she has to fill in for her brother at a school pageant, she is overwhelmed by terror. Lorna is vain about her ability to shut out distractions. Cara can't control her scary thoughts. And while Lorna tries her best to move past life's early disappointments, Cara picks at the cracks in her family's story. Spanning two decades, Catch My Drift follows mother and daughter through life changes big and small, and reveals that despite our shared experiences, we each live a private story.
---
Amy Stuart – Still Water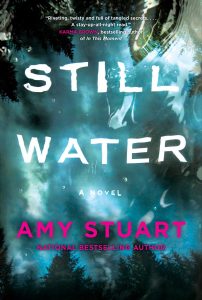 http://www.simonandschuster.ca/books/Still-Water/Amy-Stuart/9781476790459
From the Globe and Mail bestselling author of Still Mine comes a new thriller featuring Clare and Malcolm, this time on the hunt for a missing mother and son in a town that is drowning in deception—Clare may be in her gravest danger yet.
HOW DO YOU FIND THE TRUTH IN A TOWN FULL OF SECRETS?
Clare has to find them.
Sally Proulx and her young boy have mysteriously disappeared in the stormy town of High River. Clare is hired to track them down, hoping against all odds to find them alive. But High River isn't your typical town. It's a place where women run to—women who want to escape their past. They run to Helen Haines, a matriarch who offers them safe haven and anonymity. Pretending to be Sally's long-lost friend, Clare turns up and starts asking questions, but nothing prepares her for the swirl of deception and the depth of the lies.\
Did Sally drown? Did her son? Was it an accident, or is their disappearance part of something bigger?
In a town where secrets are crucial to survival, everyone is hiding something. Detectives Somers and Rourke clearly have an ulterior motive beyond solving the case. Malcolm Boon, who hired Clare, knows more about her than he reveals. And Helen is concealing a tragic family history of her own. As the truth surges through High River, Clare must face the very thing she has so desperately been running from, even if it comes at a devastating cost. Compulsively gripping and twisty, Still Water is a deep dive of a thriller that will leave you breathless.
---
Jean Van Loon – Building on River
http://cormorantbooks.com/corm/building-on-river/
An upstart from Lower Canada's Shefford Township, John Rudolphus Booth arrived in roughhouse Bytown in the early 1850s with a wife, a child, and carpenter's tools bought on credit. In the growing new capital of Canada, he built a storied empire on the river power and forests of the Ottawa Valley. Weaving conjecture with scant known facts, Jean Van Loon has created a verse narrative imagining his life. The poems speak in varied voices – of J. R. himself, family members, business associates, employees, visiting royalty and tavern wags – collectively evoking the man, the place, and the times with drama, insight, and vivid sensory detail.