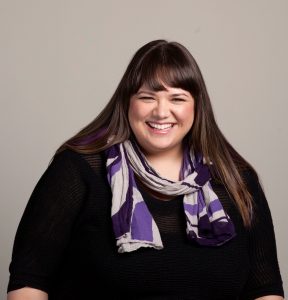 Francine Cunningham is a Canadian Indigenous writer, artist and educator. Her creative non-fiction has appeared in The Malahat Review, the anthology Boobs: women explore what it means to have breasts (Caitlin Press), The Best Canadian Essays 2017 (TightRope Books), and more. Her fiction and poetry have appeared in The Puritan, Joyland Magazine, Echolocation Magazine, The Maynard and more. She is a graduate of the UBC Creative Writing MFA Program, a recent winner of The Hnatyshyn Foundation's REVEAL Indigenous Art Award, and recipient of the 2017 Telus StoryHive webseries grant. You can find more info about her here. We spoke to Francine about what she has been up to since she graduated.
You won a $10,000 grant from Telus StoryHive for your Web Series "The Berg" in 2017. You are now in the running for further funding ($50,000). Can you tell us a little bit about the project, its inception and where it is now?
The Berg is a story about community, climate change, and the supernatural. It focuses on the villagers of Givney who live on the small island of Kiligant of the west coast of Canada. This community is struggling to survive in the new reality of living in a post-apocalyptic Canada. That is until a mysterious iceberg shows up and threatens everything they've built. This project was brought to life by myself as writer and creator, our director and editor Brit Kewin, and her brother, our producer and composer Nick Kewin.
This story was inspired by an iceberg, and my fears and anxiety about what the future holds for humanity if we continue destroying our planet. The end of our world is something that I find myself writing about a lot, and thinking about too. I was surfing the web this summer and I saw this picture of a huge iceberg floating outside of small seaside community and something just clicked. I had a thought, what if an iceberg suddenly showed up outside a community on the brink of destruction, one that is already steeped in superstition, one that is already mired in problems that are simmering just under the surface, and what if this iceberg exerts a power over them which brings everything to the surface? And what if it appeared after the end of the world had already happened?
I started to write it as a short story, but then fate intervened over a dinner one night. Brit and I were talking about projects we were working on and I asked her if she'd ever thought about doing a web-series. She'd wanted to get into episodic storytelling but was looking for the perfect project. I knew I had this story about an iceberg that would be kinda cool off the page, and that a series would fit the story better than a short story. Brit and I had wanted to work together on something since we met a few years ago and this seemed like the perfect project.
We have similar ascetics when it comes to storytelling, what we find visually appealing, and how we want to tell our stories. A good example of this was making sure the women in our show aren't wearing makeup, because we both hate it when we watch an end of the world show and the women are all glammed up. Like no, I can barely manage to put on concealer in my normal life, never mind when I'm fighting for my survival. It is also really important to both Brit and I that we have a diverse cast, that we hire women when we can, and that we always keep the focus on the story.
Can you tell us what winning those funds would mean to you and the project?
The funds, it always comes down to funding right? Well for one thing we want to pay the people that we work with, they deserve it, and we hate having to ask creative people to do something for free. So getting this money would allow us to pay people.
Secondly, this show needs higher production value to really sing, it just does. We are crafting an entire village, an end of the world village at that, and what we have in our imagination is huge, and we just want to bring that world to the screen. I have written up the arcs for the whole show, and there are some pretty cool things I want to do that need money, things we can't cheat.
Thirdly, we filmed on location. For the pilot we went to Galiano, Island, which is such a beautiful place, with such an incredible community. We would like to go back, taking a whole cast and crew on location takes funds.
This is not the only thing you have been working on since you graduated from the MFA Creative Writing Program. You have been very busy in the Indigenous community. Could you tell us about the wonderful work that you are doing?
I have been working with these really wonderful programs call Mikw Chiyam and N'we Jinan that send me as an artist in residence to Indigenous communities in northern Quebec and BC (so far) to work for six to seven weeks with the youth on writing and visual art. I love it. It is truly a unique and wonderful opportunity. I get time to work on my own writing and visual art, I get to meet and work with kick ass kids who are so creative it inspires me, and I get to travel.
I was also awarded a Hnatyshyn Foundation: REVEAL Indigenous Art Award last year which allowed me some time to really focus on my writing, which was wonderful, and allowed me to keep living this dream. Up next I am heading off to Whitehorse in the Yukon as the artist is residence at the Jenni House to work on a series of film projects.
What drives you? What are you hoping to achieve?
That's a good question. I would have to say the what if questions. I walk around all day observing things and thinking about what ifs. If I'm boarding a plane with a bunch of people, standing in line, sitting on the bus, I always think what if? What if our plane crashes, who would align myself with? What if in this line suddenly a third of the people just disappeared? What if this busload of people gets stuck in a time loop? I am always drawn to the what if. Always writing in my head. So I guess this incessant question drives me.
When it comes to my career, if you would have asked during the last year of my degree what I wanted to do with my writing life I would have answered that I wanted to be working in Indigenous communities teaching youth the joy of writing. And I am. So I've achieved it. I guess I have to think of a new goal, but for now I am enjoying this one.
What are the things you like to write about?
I've been thinking a lot about this lately. I am currently pulling together a short story collection so I've been shifting through all my stories, deciding which ones to include, and I've noticed some themes. Definitely lonely people who are at the most miserable time in their lives is a huge one. I write about mental illness a lot also, my personal experiences with it at least, and I find that currently I am focusing on the connection between Indigenous trauma and the prevalence of mental illness in our communities. I would say these are the themes that I come back to, but I also love writing horror and speculative fiction, and combing all the heavy themes with genre fiction.
I really admire the short story writing of people like Heather O'Neil, Karen Russell, Chuck Palahniuk, and Joyce Carol Oates. They all have this ability to craft stories where I'm like WTF just happened, and love every second of it. Their writing is done with such care, and they approach these fabulist horror speculative stories in such a way that I believe every word they write. And their level of craft is flawless. I'm just striving to write a story that could be kind of as good as theirs are.
Looking back at your time here at UBC- what were the biggest learnings you took away?
I learned so much during my time in the program. I was blessed to have truly remarkable professors and a really amazing cohort. Before the program I had no idea how to write a short story, I remember in my first year I signed up for Annabel Lyon's How To Write A Short Story class. I was in the first submission group and I handed in this mess of a thing, but Annabel was so kind, she found the shape inside of it and helped me understand what I was trying to do with my story. I wrote my first four stories in that class, and then I signed up for every fiction class I could. I somehow managed to take fiction with almost everyone who was teaching it at that time at UBC. Every prof and visiting writer each taught me something different. I learned to really respect the craft of short story writing.
I was also able to take almost every genre during my time in the program, except for lyric and libretto and writing for TV, I never thought I'd need to write a song or that I would write for TV, so I'm kinda regretting that decision now, hahaha.
What advice would you give prospective students and graduates?
Write as much as you can, produce as much work as you can, because for so many people when they graduate they have to get jobs that take you away from the writing, and if you have stuff you can work on fixing up then its at least something.
Also, what I did, which wasn't necessarily the smartest thing, was that I told myself I had two years to make it as a writer who could fully support herself before I had to give up and go back to school to do my doctorate or commit to a full time job. If after two years I was supporting myself as a writer then I could keep going. I also made it okay for myself to live with the knowledge I wouldn't have a lot of money, that writing was the thing I was going to wholly focus on. This put a clock on me, I function better with deadlines. I also decided I would say yes to every writing contract, I would apply for grants and residencies, and I would write— everyday. I have passed the two-year mark this December and I'm not going back to school or getting a full time job yet.
You can vote for Francine's project here.