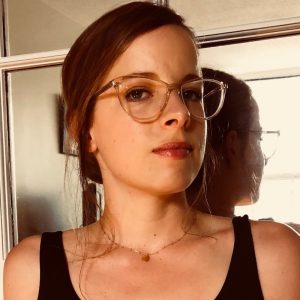 Recent MFA graduate Alanna Francis spoke to us about finding success with the screenplay she wrote as a student in the Creative Writing Program.
The screenplay, The Rest of Us has recently started production, produced by Toronto's Babe Nation Creations.
The film is directed by #AfterMeToo co-creator Aisling Chin-Yee (Synesthesia), who is making her feature film directorial debut. It stars Heather Graham (Boogie Nights), Sophie Nélisse, (The Book Thief) Jodi Balfour (The Crown) and young actress Abigail Pniowsky (Arrival). It follows a divorced woman (Graham) who threatens her already rocky relationship with her teenage daughter (Nelisse) when she invites her ex-husband's second wife (Balfour) and daughter (Pniowsky) to move in following his unexpected death. 
Tell us about the genesis of the film
The story of how this project came about is one that revolves around a combination of good luck, good timing, and, I suppose, a fair bit of hard work. I was introduced to Katie Nolan, a founding partner and producer at Babe Nation Creations, at a TIFF party two years ago. We hit it off right away, and it turned out we came into each other's lives at exactly the right moment. At that time Babe Nation, whose mission is to champion female voices in film, was looking for a script to develop as their first feature, and I had a script centred around the relationships of women ready to share with them. It felt very much like kismet.
I began writing the script for The Rest of Us in my screenwriting class during my first year in the program. Early on our prof, Sharon McGowan, gave us good advice on writing a script that could translate into a low budget film that would stand a better chance of getting made. I'm a character-driven writer, so I knew I wasn't going to write something high concept and expensive, but as a first-time screenwriter, having that practical advice from someone with a production background was invaluable.
Without a doubt the best thing I did in my screenwriting class was to push myself to finish the second semester with a completed first draft of my script. That first draft was a very long way from perfect, but it was a good start, and it meant I had something to send to producers right away when the opportunity presented itself.
Every writer's process is unique and personal to them, but my best advice for other students would be to always keep pushing forward to that completed first draft stage. Let it marinate, make some judicious edits, then tune out the antagonistic voice of self-doubt in your head and send it out.