Please join us this July at the 2023 UBC Creative Writing Summer Residency! We're pleased to offer a multi-genre, non-credit class just for our MFA and BFA alumni, led by the amazing Zac Hug.

This non-credit class runs from Wednesday, July 5 to Friday, July 14, and alumni can also register for Camp Comics on Saturday, July 15.

Keep reading for Zac's class description, residency highlights, costs and registration information, and suggested accommodations.

We look forward to welcoming you back to campus this summer!
---

Class Description
A message from Zac about the course:
It's time to get that project together; the one you've had rattling around in there for a while, and have probably taken all those notes on. Or, perhaps, it's time to take a good hard look at the project you've started once or twice that may need an entire re-thinking. It might even be time to resurrect that screenplay that should, after all, be a novel. We're not going to get that project done in a summer session, but we are going to get it re-developed so that you can finally write it.
Through exercises in visualization, character explorations, and change of perspective, students uncover new information and burst through the walls of what's keeping the project under wraps. Through workshops in adaptation, guest speakers from various forms of writing (designed in conjunction with the goals of the participants), and in-class writing, we'll develop a packet of information that will allow students to leave with new methods for their writing process, a fresh start at a beloved project, and an enormous amount of information to help them write and completing the project they've been meaning to get done.
---
Residency Highlights
An alumni celebration at the Robert H. Lee Alumni Centre on the evening of Thursday, July 6, celebrating the 10th anniversary of the HarperCollins/UBC Prize for fiction. Enjoy a drink and nibblies while you mingle with current faculty, students, alumni, and industry representatives; enjoy a reading and discussion by a selection of previous prize winners; meet up with old friends and new.
The 10th Annual Summer Film Showcase, an evening screening event of short films, web series and TV episodes written by UBC Creative Writing students and recent alumni, followed by a Q&A with the filmmakers.
Morning keynote, craft sessions and panel discussions, including guest speakers such as Jennifer Lambert (Editor-in-Chief, HarperCollins Canada), agents Rachel Letofsky and Anna Archer, visiting authors Tessa McWatt, Ellen Keith, Jasmine Sealy and Tammy Armstrong, and many more TBA.
Faculty Book Seminar on the first morning – registered alumni are invited to participate.
Evening social events and readings with fellow alumni and current students.
---
Bonus: Attend Camp Comics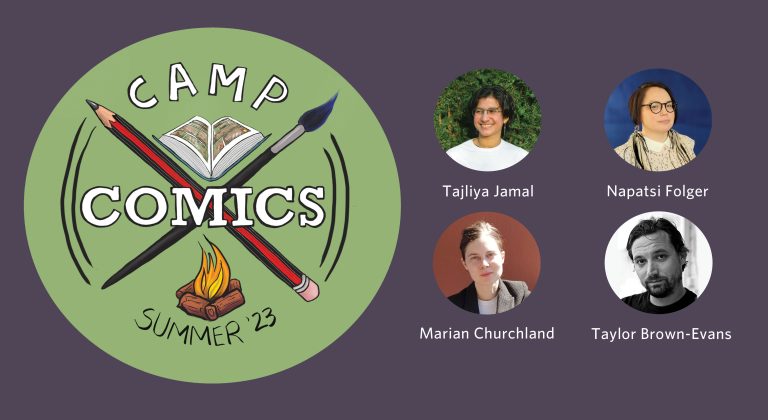 Stay an extra day! On Saturday, July 15, we'll offer our first ever comics camps for adults. Never taken a comics class? Can't draw? No problem! Our warm and friendly instructors are here to guide you in a fun, day-long event to spark your creativity. Are you still wavering? One word: s'mores!
---
Costs and Registration
Alumni Class
8-day alumni class (Wed. July 5 to Fri. July 14), including attendance at all keynotes, craft sessions, panel discussions, and evening events:

Early bird rate (to May 15): $700
Standard rate (after May 15): $900
Travel and accommodation are not included in these fees; participants must make their own arrangements.
We reserve the right to cancel if enrollment is too low. In the event of cancellation due to low enrollment, your registration fee will be fully refunded.
Camp Comics
 1-day comics camp (Sat. July 15):

We are offering a sliding scale starting at $0. Please pay the full amount if you are able to and choose a lower amount if you need to. 
For each workshop, you have the option to pay $0, $12 or $25.
Please let us know about any accessibility needs when you register.
---
Accommodations
UBC Conferences & Accommodation
The centre opens many of UBC's student residences to outside visitors during the summer. Rooms range from basic student/hostel style accommodation to apartment-like suites. http://suitesatubc.com
Carey Centre
Part of UBC's Theology Block, and a short walk from our classrooms, the Carey Centre rents out student dorm rooms during the summer. They have a number of room and apartment options available. https://live.carey-edu.ca/rooms
St. Andrew's Hall
The Presbyterian theological college at UBC, St. Andrew's rents out a limited number of rooms during the summer to visitors. Accommodations include single rooms in co-ed quads (4 room blocks), studio apartments, as well as 1 and 2 bedroom accommodations for slightly more. The hall is quite near CRWR. 3 night minimum.
http://standrews.edu/passion/housing-hospitality/residence-summer-term/
St. John's College
During the summer term, St. John's College offers summer accommodation to academic visitors to UBC in comfortable rooms furnished with either a double or queen-sized bed and private washroom. The college is a 10-15 minute walk from CRWR.
http://stjohns.ubc.ca/home/guest-and-meeting-room/guest-accommodation/?login
Off-Campus: International Hostel
The hostel is a modest bus ride and walk from UBC. Shared room rates are very reasonable, especially for members. The hostel is in an attractive location near the ocean, and has on-site kitchen facilities for those on a budget.
https://hihostels.ca/en/destinations/british-columbia/hi-vancouver-jericho-beach