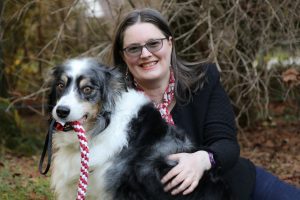 How did your time in the Creative Writing Program influence your work?
I enjoyed the opportunity to study in three different genres and it helped improve my writing in many ways.
What's your latest published/performed work?
Wag: The Science of Making Your Dog Happy, with a foreword by Dr. Marty Becker. Published by Greystone Books, 2020.
What are your most recent awards?
My blog post, The Ultimate Dog Training Tip, won the 2017 Captain Haggerty Award from the Dog Writer's Association of American for the best dog training book or article.
Is there anything else about your writing career you'd like to share?
Despite launching during the pandemic, WAG is a BC bestseller. I am currently working on my second book, also to be published by Greystone Books, and provisionally titled Purr: the Science of Making Your Cat Happy. My blog, Companion Animal Psychology, is about how to have happy cats and dogs (according to science). I have a blog at Psychology Today called Fellow Creatures, which explores the social world of people and animals. My writing has also appeared in Modern Dog, Modern Cat, Pacific Standard, and The Psychologist. As well as my MFA Creative Writing, I have a PhD in Psychology, and am an affiliate member of the American Veterinary Society of Animal Behavior. I grew up in Leeds, UK, and now live in Maple Ridge, BC, with my husband and two cats.
Zazie's Website: https://www.companionanimalpsychology.com/