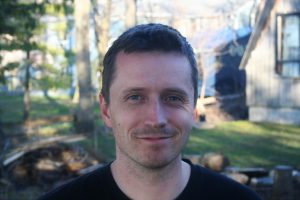 Rob Taylor is the author of two poetry collections, The News (Gaspereau Press, 2016) and The Other Side of Ourselves (Cormorant Books, 2011). His poems, short stories and essays have been published in over fifty journals and anthologies, including The Fiddlehead, The New Quarterly, Geist and In Fine Form: The Canadian Book of Form Poetry.
In 2014 Rob was named one of the inaugural writers-in-residence at the Al Purdy A-frame, and in 2015 he received the City of Vancouver's Mayor's Arts Award for the Literary Arts, as an emerging artist. The manuscript for his first poetry collection won the 2010 Alfred G. Bailey Prize.
Rob has co-founded two literary magazines and edited two others, including a stint as PRISM international poetry editor in 2014-15. He has run a blog, Roll of Nickels, devoted to Canadian (especially BC) poetry since 2006, and since 2011 has served as one of the coordinators of Vancouver's Dead Poets Reading Series.
---
Find Rob online at Twitter, Facebook, and Goodreads.
---