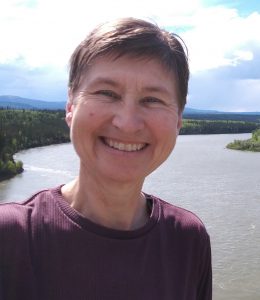 How did your time in the Creative Writing Program influence your work?
This MFA was hugely important, supporting my career development as a writer. I arrived at UBC Acadia family housing from the Yukon with my husband and 2 young daughters. I benefitted greatly from writing workshops in my genres (plays, screen, short fiction) with Bryan Wade, Peggy Thompson, Linda Svendsen & inspiring student peers. I acted in Summerworks in my first solo incarnation of my play West Edmonton Mall (later produced for stage, radio) & adapted Professor Emeritus Patricia Marchak's powerful book God's Assassins for a Vancouver Institute public reading. My thesis play Where the River Meets the Sea won a national award and was produced; my early fiction forms part of my forthcoming collection. I had the confidence to co-found Gwaandak Theatre with my husband Leonard Linklater, pursuing our passion with a company focused on Indigenous and diverse Northern voices we didn't see told often; the company is still thriving. The MFA helped me to find and chart my creative path.
What's your latest published/performed work(s)?
Co-creator, Ndoo Tr'eedyaa Gogwaandak – Vuntut Gwitchin Stories, radio plays/booklets in Gwich'in/English (Gwaandak Theatre/Vuntut Gwitchin Govt.): vuntutstories.ca. Stage play Paradise, 2017, Playwrights Canada Press; Gwaandak/MT Space production toured nationally. Excerpt forthcoming, Refractions: Scenes, PCP 2020. Co-creator, Map of the Land, Map of the Stars, exploring untold stories of the Yukon's history. Toured in north and nationally, published in Canadian Theatre Review, Spring 2018
What are your most recent awards?
Yukon Heritage Innovation, Education, & Community Engagement Award for Ndoo Tr'eedyaa Gogwaandak – Vuntut Gwitchin Stories (Gwaandak Theatre/Vuntut Gwitchin Government) in 2019 (I was a co-creator, dramaturg and co-director)
Selected participant for National Playwrights Retreat, Caravan Farm Theatre, B.C., 2019
Arts Builder Award, with husband Leonard Linklater, Yukon Arts Centre, 2016
Kiss That Alaska Highway, Winner, Female Eye Film Festival Script Reading Series, 2011
Are you connected to any creative writing communities you'd like to mention (UBC alums, film and theatre communities, etc)?
Actively involved in Playwrights Guild of Canada, incoming editor of Women's Caucus Newsletter. Member of The Writers' Union of Canada,
Literary Managers & Dramaturgs of the Americas. A founding director of new Yukon Words Society. Whitehorse fiction group: Joanna Lilley, Lily Gontard, Ellen Bielawski. Fellow MFAers: Marcus Youssef, Sara Graefe (a year ahead), Kevin Chong, CJ Gatchalian, Natalie Meisner, Rachel Ditor, Craig Holzschuh. Love to connect with others!
Is there anything else about your writing career you'd like to share?
Fiction collection Such A Lovely Afternoon forthcoming 2021. Working now on first novel.
Award-winning writer of produced/published plays, screenplays, fiction.
Currently Playwrights Guild CASA mentor working with South African playwright Tamara Schultz.
Also works as a dramaturg, director.
Recent residencies: Caravan Farm Theatre, Sage Hill Writing Experience, Alderworks Alaska
Links to plays:
https://www.playwrightscanada.com/Books/P/Paradise
https://www.canadianplayoutlet.com/products/sixty-below-leonard-linklater
https://www.canadianplayoutlet.com/products/street-signs
https://www.canadianplayoutlet.com/products/west-edmonton-mall
https://www.canadianplayoutlet.com/products/where-the-river-meets-the-sea
https://www.playwrightscanada.com/Books/R/Refractions-Scenes
Co-Devised Works:
https://vuntutstories.ca/
Map of the Land Map of the Stars: https://ctr.utpjournals.press/doi/10.3138/ctr.174.013
Other: Nightswimming Pure Research Project with Reneltta