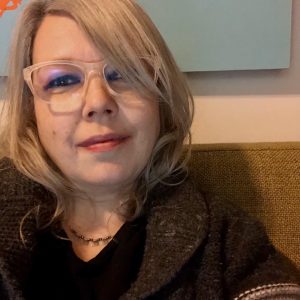 Kathryn is the author of four poetry books and several short films and experimental video which have screened at over 60 festivals including the Toronto International Film Festival, Palm Springs International Festival, ZEBRA Poetry Film Festival, and EMAF and have been broadcast on TMN, Movieola, and Bravo.
She attended the Canadian Film Centre's Writers' Lab and wrote two short films for the NBC/Universal Short Dramatic Film Program.
She is the Publisher of Watch Your Head, an online anthology of creative works devoted to climate justice and the climate crisis, and she is an Assistant Professor of Screenwriting at the University of Victoria.
What's your latest published/performed work?
I'm editing a print anthology called Watch Your Head which will be published by Coach House Books in October 2020.
I have a poetry chapbook written in collaboration with Gary Barwin forthcoming from Knife | Fork | Book (Fall, 2020).
My debut collection of stories is forthcoming from Book*hug (2022).
Are you connected to any creative writing communities you'd like to mention (UBC alums, film and theatre communities, etc)?
I am an alumnus of the Canadian Film Centre (CFC).
I am an Assistant Profession of Screenwriting at the University of Victoria.
Kathryn's website: http://www.kathyrnmockler.com