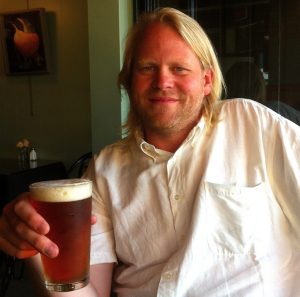 Joe Wiebe, the "Thirsty Writer" is the author of Craft Beer Revolution: The Insider's Guide to B.C. Breweries (Douglas & McIntyre, May 2013), the definitive guidebook to British Columbia's burgeoning craft beer industry. The book was a B.C. bestseller in 2013 and won the Gourmand Award for Best Beer Book in Canada. A fully revised second edition will be published by Douglas & McIntyre in March 2015.
One of Canada's top beer writers, Joe is working on a book about the history of brewing in Vancouver called Tales from Brewery Creek and has his sights set on a national beer book in the next couple of years.
Joe has been a freelance writer for 15 years, writing hundreds of articles a wide range of subjects including arts and culture, sports, business and travel, but since 2008, he has mainly written about craft beer with regular columns for the Northwest Brewing News, Vancouver View, UrbanDiner.ca and the BC Craft Beer News, as well as beer-soaked stories in BCBusiness, WestWorld, Beer West, Taps, Publican, NUVO, Taste and Boulevard. He also blogs for Tourism B.C.
Joe is a co-founder of Victoria Beer Week and he also gives seminars and lectures on the craft beer scene in British Columbia.
Joe has taught freelance writing at the University of Western Ontario and Douglas College (Print Futures program).
---
www.joewiebe.com / www.thirstywriter.com / www.craftbeerrevolution.ca
Publications:
Books (non-fiction):
Craft Beer Revolution: The Insider's Guide to B.C. Breweries (Douglas & McIntyre 2013; revised edition 2015)
Tales from Brewery Creek (Anvil Press, forthcoming in 2015)
Fiction:
Sunlight + Coloured Glass' (short story) in Half in the Sun anthology (Ronsdale Press 2006)
Lost and Found' (short story) in Wreck anthology, UBC (2005) & Rhubarb magazine (2008)
Non-Fiction:
Apricot Platz (literary memoir) in Geist (December, 2004) & Rhubarb (October, 2005)