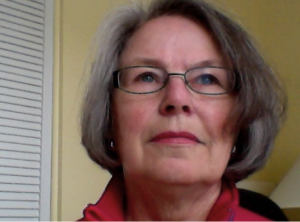 Jean is an Ottawa native, married to another one, mother of two more and grandmother of three Ottawa granddaughters. An unrepentant throwback in the age of mobility.
After a career as an executive in the federal public service and as head of a national industry association, Jean plunged into the world of creative writing. Hooked by the end of her first workshop in short fiction at Carleton University, she followed up with more. Gradually she added to her Honours BA in Political Science (Carleton) and MA in Political Studies (Queen's) a graduate diploma from the Humber School of Writing and an MFA in Creative Writing through UBC's Optional Residency Program.
She now indulges in poetry as well as short fiction and is a happy member of the active and supportive writing community in Ottawa.
---
Publications:
Where Are You Going?" Room, Issue 37.1, Winter/Spring 2014.
Stardust, Queen's Quarterly, re-publication Summer 2013, as part of the quarterly' 120th anniversary celebrations; Journey Prize Stories 19, McClelland and Stewart, November 2007; originally, Queen's Quarterly, Summer 2006.
Account of a Trip to Tuscany Together With Certain Useful Italian Phrases, non-fiction, Prairie Fire, Volume 33, 2, Summer 2012. 3rd place in annual competition for creative non-fiction.
Noah's Dive, The New Quarterly, Volume 109, Winter 2008.
Pest Control, Ottawa Magazine (sister publication to Toronto Life), July 2007.
Gracie' Luck, The New Quarterly, Volume 98, Spring 2006.
Thunder Lake, winner of The Summer Place fiction contest, The New Quarterly, Issue 91, Summer/Fall 2004.
Life List, The Dalhousie Review, Issue 84.1, Spring 2004. 
Other Recognition
Public reading from Pest Control' at Library and Archives Canada, September, 2007, sponsored by Ottawa Magazine and the Ottawa International Writers Festival.
Beholden, finalist in the Malahat Review, 2005 Far Horizons Award for Short Fiction.
Pest Control, finalist in The Writer's Union of Canada 2001 Short Prose Competition for Developing Writers
Other Publications
My poetry and reviews have appeared in Queen's Quarterly, Bywords Quarterly Journal, Bywords.ca, blogspotTRUCK, Room, Arc Poetry.