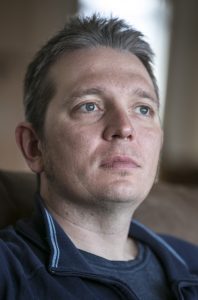 What's your latest published/performed work?
Privilege (a novel)
What are your most recent awards?
Jessie Richardson Award for Outstanding New Script — Inside the Seed
Are you connected to any creative writing communities you'd like to mention (UBC alums, film and theatre communities, etc)?
Is there anything else about your writing career you'd like to share?
I'm a Calgary-based writer and lapsed academic with a professional artistic career spanning nearly twenty years (primarily in theatre). I served as resident dramaturge of Playwrights Theatre Centre (Vancouver), resident playwright of the Soulpepper Academy (Toronto), co-founder and Festival Director of the Calgary Fringe Festival, and Artistic Director of Ghost River Theatre (Calgary).
I've enjoyed many professional productions of my theatrical work (as playwright and collaborative-creator), including Inside the Seed, recipient of a Jessie Richardson Award for Outstanding Original Script, and published by Talonbooks. The City & the City – an adaptation of China Miéville's celebrated cult novel – enjoyed a sold-out premiere run at the PuSh International Performing Arts Festival. (Re)Birth: EE Cummings in Song toured to New York City's 42nd Street Theatre after multiple mainstage mountings.
My debut novel, Privilege, was released by Enfield & Wizenty in 2019.
Jason's Website: http://jasonpatrickrothery.com/