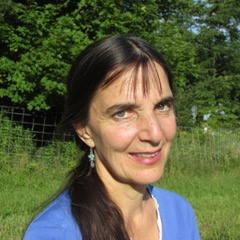 Catherine Young is a writer and performing artist whose work is infused with a keen sense of place. A nominee for the Pushcart Prize in prose and poetry and Best American Essays. She worked as a national park ranger, farmer, educator, and mother before completing her MFA in Creative Writing at the University of British Columbia. Her writing has been published in the anthologies The Driftless Reader (University of Wisconsin Press), Permanent Vacation II: Eighteen Writers on Work and Life in Our National Parks, and Imagination and Place: Cartography. Her work appears in literary journals nationally and internationally in About Place, Fourth River, Hippocampus, Cold Mountain, Passager, and Reliquiae among others. Catherine's children's fiction, nonfiction, and poetry appeared in Cricket. Her memoir Black Diamonds, Blue Flames: A Childhood Colored by Coal has been longlisted for the Graywolf Press Nonfiction Prize.
How did your time in the Creative Writing Program influence your work?
The UBC Optional Residency MFA gave me the tools I needed to find my way as a published writer and to create opportunities for performing, publishing, and teaching.
What's your latest published/performed work?
About Place journal's "Practices of Hope" issue published my long poem "Women Tending" and I will appear in an international Youtube reading and discussion.
What are your most recent awards?
Longlisted for the Graywolf Press Nonfiction Prize.
Are you connected to any creative writing communities you'd like to mention (UBC alums, film and theatre communities, etc)?
Catherine leads writing workshops, and she serves on the Editorial Board of Midwest Review. She is wildly enthusiastic about Little Free Libraries and is featured in the LFL film Because It's Small. Her writings are recorded for radio and podcasts. Rooted in farm life, Catherine lives with her family in Wisconsin's Driftless Area.
Catherine's Website: http://catherineyoungwriter.weebly.com/