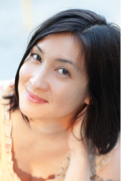 Brandy's highly anticipated first memoir, What Doesn't Kill Us, chronicles her journey with an aggressive, rare breast cancer at the age of 31. The book reflects on the parallels between her experiences with cancer and the subsequent demise of her marriage, and her American father's and Vietnamese mother's trauma and survival during and after the Vietnam War. The book crosses borders, from rural, Amish-country Pennsylvania, where she'd grown up, to Vancouver, where Brandy lived with her parents, husband, and two young children while enduring aggressive chemotherapy, radiation, and a double mastectomy.
Brandy is currently working on a second memoir, which delves into the Vietnam War stories her parents and half-sister told while she was growing up and excavates deeply buried secrets of loss and regret. She is represented by Anne McDermid & Associates Literary Agency.
She lives in Vancouver with her husband, Anton, her three children, Chloe, Mylo, and Moxie, and their two cats, CBB and Zircon.
---