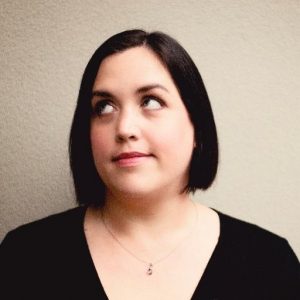 ---
Brooke Carter is the author of the poetry collection Poco Loco and the forthcoming YA novel Another Miserable Love Song. She is also an alumni of the UBC Creative Writing MFA program. You can find out more about Brooke at brookecarter.com.
---
(Listen to Brooke read from her collection POCO LOCO)
---
Could you tell us a little about yourself?
Hi, I'm Brooke Carter. I'm originally from Poco, BC, and I attended UBC for both my BFA and MFA, graduating from the Creative Writing program in 2011. I love writing across genres. Even though my thesis MFA was a screenplay, I've recently published a poetry chapbook and my YA novel is forthcoming in August 2016. I miss being in the program, but fortunately I am still able to participate through alumni workshops and critique groups, which have been extremely helpful to me. In fact, my poetry collection, Poco Loco, originated from one of those informal peer workshops.
Can you tell us a little about your poetry collection?
Poco Loco is a mean little book about my experiences growing up in Port Coquitlam (Poco). It is set against the backdrop of the Pickton murders and thematically deals with what it means to be a girl in a place where your future is very much in question. Poet Jim Johnstone runs an amazing press called Anstruther Press, which is a collective of poets and readers and designers who make these beautiful chapbooks and broadsides. They've published Jess Taylor and Kayla Czaga, and when I was first sending out the poems from this collection I just really thought it would be a good fit. One day Jim contacted me to say that he and Daniel Scott Tysdal loved the manuscript and wanted to publish. Daniel was and is an amazing editor and teacher, and he really helped me to fine-tune these poems and get them ready for publication. Poco Loco came out in March 2016.
What was the process of writing your poetry collection?
This collection started with one poem' the title poem, Poco Loco' and once I had the voice from that poem firmly in my pocket, the rest of them just flowed out. I had taken a break from writing poetry to focus on screenplay and YA fiction, and so after all that time spent on structure and narrative in prose it was almost a welcome change to switch back to poetry. I don't want to say that it was easy to write them, but it definitely went more quickly than it has in the past. I spent time wandering around and driving around Poco, and quite a few late nights daydreaming of my misspent youth.
Two things happened during the writing of these early poems that really helped: I submitted three of them to Arc magazine and they were rejected' but I was recommended to their Poetry Mentorship Program with poet Marilyn Dumont, who read them and was extremely encouraging. That was a huge confidence booster. Then I submitted to The Humber Literary Review and two of the poems were accepted. That was when I knew that there was something to all these poems that was worthwhile.
Why did you choose to write about what you did?
I think these poems have been brewing for a long time. There is a lot of me, personally, in these poems, my youth, the place that formed me, the terrible choices I made. And also I couldn't stop thinking about girls and women I had known, or not known, who were gone. I remember driving around Poco one day with my kids in the car and I drove past a new housing development I had never seen before and was suddenly struck with a pang of grief. I realized that this new development was being built on the exact spot where a friend of mine had lost her life when we were 15. I just had this terrible sense of the unrelenting nature of time and also was just really sad that there was a townhouse sitting on a spot that was sacred to me. That day I went home and wrote what would become' Dead Girls Don't. From that point, the theme of forgotten girls was born. It wasn't difficult to mine my own personal history, and Poco's dark history, to tell more of the same stories.
Where do you get your ideas for poems from?
I am an idea person in general. I tend to have a lot of ideas when it comes to prose or dramatic projects, but poetry for me has always been deeply personal. Over time, certain themes will emerge in the various projects I'm working on, and I tend to daydream a lot. Somehow it all melts together inside my brain until I find that I am consistently writing about the same things. That's when I know.
What is one the most important lessons you've learned about writing?
You have to keep going. The life of a writer, certainly a poet, can be so discouraging and lonely. You see your peers being published or winning awards, and while you are happy for them, you do tend to wonder if you are just not good enough. Maybe you aren't, but the only choice is to keep writing. Every time you finish a project you are working through something, you get better, you refine your craft, you get closer to completing something that is successful, and not necessarily publication-worthy. Because publishing moves at a glacial pace, the best thing is to write furiously, get as much material under your belt as possible, and then start sending it out while you work on even more projects. It's like crop rotation. Eventually, something breaks through. Then something else. And then, if you can keep it up, it all snowballs from there. But none of that matters if you don't write. All the other advice is moot if you don't write.
How did the Creative Writing program help your writing practice?
The best part of the program, apart from amazing teachers like Sara Graefe (who was my thesis advisor and a genius when it comes to story structure), was that I had no choice but to write a lot of material. During the two years of my MFA, I wrote two YA novels, two feature screenplays, an original television series, a one-hour television spec script, and an adult speculative novel, among other shorter pieces. So when I graduated I had finished material that I could try to do something with. Because I was working as a copywriter, teaching part-time, and pregnant with my first child during much of MFA, I also learned how to structure my time so that I could be a productive writer. There was none of this waiting for the muse business. If I had 30 minutes to write, then I wrote the entire time.
Something people may not know about you?
I imagine there's a lot that people don't know about me because I am basically an unknown hermit, but, I sometimes seriously consider going to medical school. There's something in me that really wants to be a surgeon. I think it's a general obsession with human frailty.
What are you working on now?
I am working on a longer collection of poems, and I am writing more contemporary YA fiction. I'm also working on a speculative YA novel. I really love SFF and I founded and edit the spec literary journal UNBUILD walls
Are you doing any upcoming readings?
I'll be launching my YA novel, Another Miserable Love Song, at Black Bond Books in Haney Place Mall, Maple Ridge, on Sept 17, 2016. 
---
Find Brooke on Facebook, Twitter, and GoodReads.
---
Purchase Poco Loco or pre-order Another Miserable Love Song 
---
Francine Cunningham is the social media executive for the UBC Creative Writing Alumni Association. What does that mean exactly? She is on the Twitter, Facebook, Goodreads accounts and our blog, posting information about our alumni, events and news. She also runs this interview series Featured Alumni and loves being able to get to know the people who make this association what it is. For more information about Francine and her writing find her at www.francinecunningham.ca.
---